Father and son relationships can be complicated – mine certainly is. Love. Hate. Respect. Fear. Worship. Disdain. Pride. Disappointment. Happiness. Anger. Joy. Sadness. The list goes on.-John H. Clark III
2. A man's desire for a son is usually nothing but the wish to duplicate himself in order that such a remarkable pattern may not be lost to the world." — Helen Rowland
3. When your son grows up, become his brother." — Arabic Proverb
4. Every father should remember that one day his son will follow his example rather than his advice." — Charles F. Kettering
5. Fathers should strife to heal , to be and to do better because sons are likely to be an extension of their fathers. – Bogadi Rammuki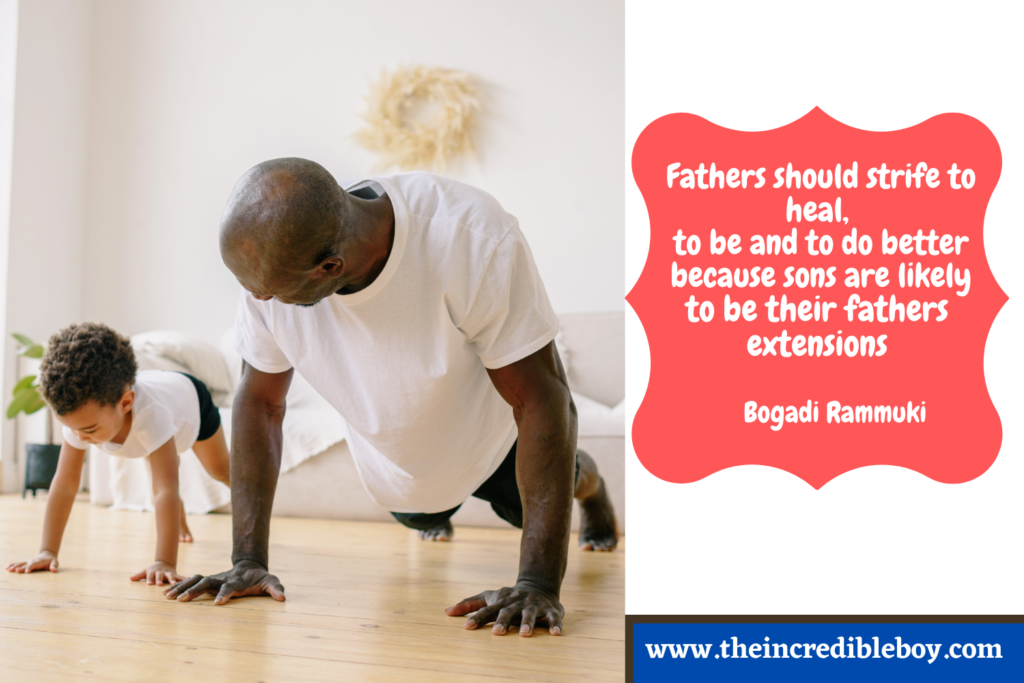 6. Boys do not ache for their father's masculinity. They ache for their fathers' hearts."T Real
7. My father didn't tell me how to live. He lived and let me watch him do it. Clarence Budington Kelland
8. The nature of impending fatherhood is that you are doing something that you're unqualified to do, and then you become qualified while doing it. John Green
9. I learned a lot in those first years in Miami, while struggling just for survival, by observing my father's fortitude."Desi Arnaz.
10. Life doesn't come with an instruction book—that's why we have fathers." H Jackson Browne
11. It's a father's duty to give his sons a fine chance." George Eliot
12. Now, even the things my dad did when I was younger that I thought was crazy, not so crazy now that I'm older. Dwyane Wade.
13. A good father is one of the most unsung, unpraised, unnoticed, and yet one of the most valuable assets in our society." Billy Graham
14. The impression made by a father's voice can set in motion an entire trend of life
15 . Honesty and authenticity are one of the best lessons a father can teach a son, not by words but by lifestyle- Bogadi Rammuki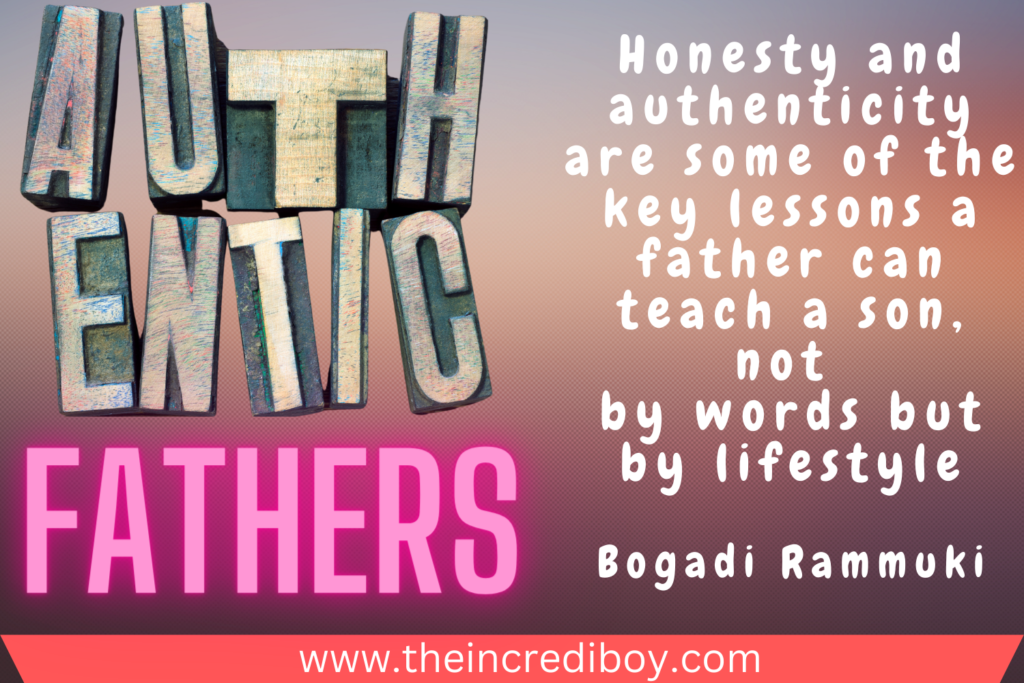 16. Fathering is not something perfect men do, but something that perfects the man. Frank Pittman
17. I am a family man, and my most important role is a father to my son. Edd Skrein
18. I talk and talk and talk, and I haven't taught people in 50 years what my father taught by example in one week." Maria Cuomo Cole.
19. Anyone who tells you fatherhood is the greatest thing that can happen to you, they are understating it." Mike Myers
20 . Giving your son a skill is better than giving him one thousand pieces of gold." — Chinese Proverb
21. My father used to play with my brother and me in the yard. Mother would come out and say, 'You're tearing up the grass.' 'We're not raising grass,' Dad would reply. 'We're raising boys
22. Being a father is the most important role I will ever play and if I don't do this well, no other thing I do really matters. Michael Josephson
23. Becoming a father does not make you one, it takes decision and intention to Be One . Bogadi Rammuki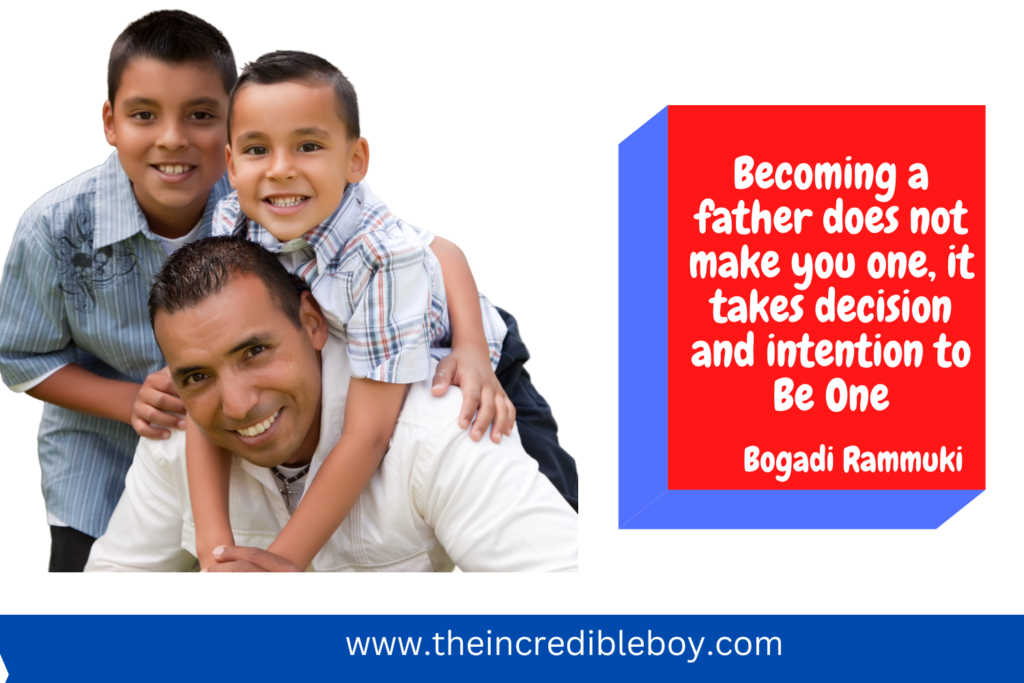 24. One of the greatest gifts you can give your teenage boy is the gift of letting him know you get it. You've been there." — Sebastian R. Jones
25. "I'm struck by a few things today, most of which is the power of the invisible role model… Perhaps it's the newfound clarity I have as a father knowing that my son will always be watching what I do, mimicking my behavior, one day maybe even following in my footsteps.
26. My father gave me the greatest gift anyone could give another person; he believed in me." — Jim Valvano
27. "If you want a son to grow up into a man you can be proud of, be a man he can be proud of." — Anonymous
28. To be the father of a nation is a great honor, but to be the father of a family is a greater joy." Nelson Mandela
29. Like father like son: Every good tree maketh good fruits. William Langland.
30. Life doesn't come with an instruction book—that's why we have fathers." H Jackson Browne
31. Of all the titles I've been privileged to have, 'Dad' has always been the best. Ken Norton
32. Being a great father is like shaving. No matter how good you shaved today, you have to do it again tomorrow." Reed Markham
33. There is a yearning all around for better men , and it will take a rare breed of fathers to quench this yearning by setting a standard of wholeness, confidence and authentic manhood. Bogadi Rammuki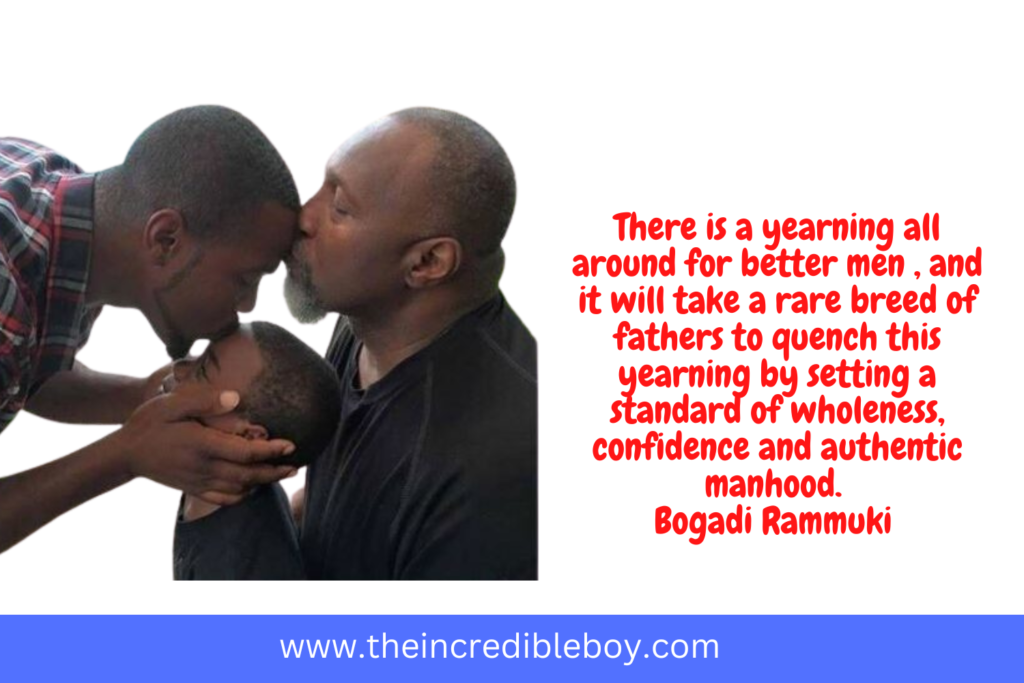 .
Conclusion
I hope you enjoyed the quotes and were inspired to up the fatherhood game. Truth is the well being of the upcoming generations is fully dependent on how our boys are raised and groomed. The kind of fatherhood needed to ensure the healing of this and coming generations is not without challenges but intentional fathers will take the challenges head on.
For more insight on how to raise boys to be incredible men refer to the following articles :
Raising boys to be remarkable men
Boys developmental stages – Stages of boyhood
Authentic Manhood – Grooming boys to be authentic men