I am all about Intentional Parenting. I believe that kids grow up to be who we groom them to be, that the negative or positive effects of the environments they grew up in unfolds in their adulthood. This article is about For Purpose Kids review, with it I am hoping to besiege as many parents as possible to be Intentional about raising their kids to be good global citizens who positively impact their environments relate well with people and animals and live a purpose fueled life.
Name: For Purpose Kids
Founder : Misty Castañeda
Do I recommend it : YES
Price: Depends on the Choice of your Category
What is For Purpose Kids?
For purpose Kids was established by Misty Castañeda with the vision to help parents teach their kids social good. She uses a subscription toolkit model to achieve this. The kit consist of an activity guide, book and about 3 activities relevant to the theme. This toolkit is what the kids need to develop empathy , compassion and love for the world around them.
The toolkits engage young kids in meaningful conversations using social good focused stories. The multi cultural characters in the stories teach kids to embrace and celebrate our differences.
For Purpose Kids is made up of four categories:
Book Club
Be Kind & Do Good Toolkits
Color Me Kind Collection
Fun "Extras
More about these categories below.
Who is it For?
For kids aged 3 – 10 years. For specified categories there is an age range of 5 – 10 years.
For parents who desires to raise empathetic , compassionate kids with the understanding, love and care of their environments.
Next generation of eco conscious citizens
How it Works?
For Purpose Kids is divided into three main categories i.e The Book Club, Be Kind & Do Good Toolkits and Color me kind collection. Each of these categories have its own sub categories and they are all fully explained below.
Book Club
FPK book club is a 6 months bi monthly subscription .
Costs
12 Months : $145:95
06 Months : $74.95
Per Month : $ 25: 95
The subscription includes
Selected children's book to develop empathy about a specific topic (examples include diversity & inclusion, anti-racism, gender equality, access to education, climate change)
Conversation starters that build the connection between the family and the featured topic.
An encouraging real-life story of "For Purpose Kid" doing amazing things in the world.
Age appropriate, fun DIY activity suggestions, created by For Purpose Kids.
This pre-paid subscription will include 3 mailings, sent every other month.
The subscription includes shipping in the US.
Below is the review from a book club subscriber
'Our 9 and 10 year old were SO excited to receive their latest book, "Malala's Magic Pencil". From the moment they opened the package, oh my goodness, they couldn't contain their excitement about reading it together. My 10 year old daughter, Jade, had read the book in school, so she was VERY excited to read it again, and to introduce it to her brother! We had THE BEST late night chat before bed, thanks to the awesome insert included with age appropriate dialogue starters, about what they would do with their magic pencil. Some of the ideas included building homes for the homeless to live in for free, making/giving things to people to make them smile and help them, etc. We also talked a lot about opportunities to stand up for others and what that can look like. Such awesome dialogue!! Thank you for encouraging children and adults to engage in learning, reading and becoming more aware of how to be compassionate and caring by understanding other's perspectives.'
Be Kind & Do Good Toolkits
There are four categories under Be good and Kind Toolkits. Each toolkit focus on a different topic. Their message is centered around inspiring kids to be kind & do good to others, animals & the environment.
1. Do Good Starter Toolkit – $39.95
The kit inspire kids with creative ideas of how to do good by giving back and helping others
Toolkit contains: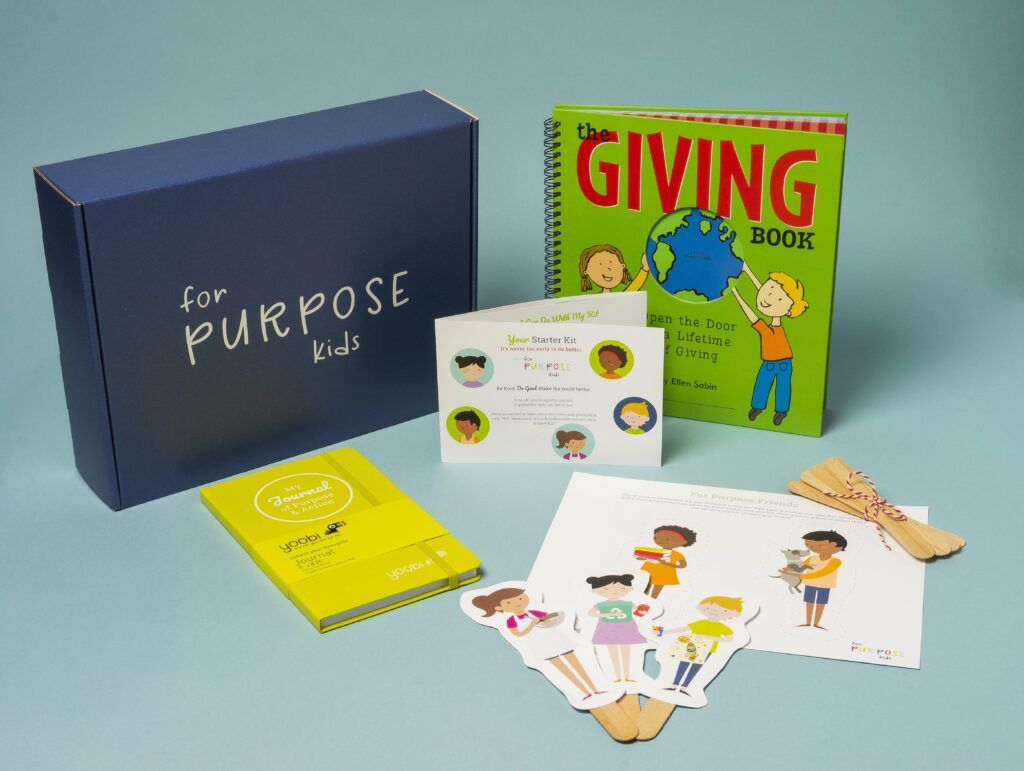 The Giving Book, by Ellen Sabin.
Starter Kit Guide– Your kids will meet five For Purpose Friends that will teach them about doing good and helping others. They will also learn about other cultures round the world with their different backgrounds.
Welcome Guide for Champions– It provides guidance on how to support your kids efforts to do good in the world
Journal of Purpose & Action– This is my favorite. A beautiful place for kids to journal about their journey, efforts and activities as they make it their mission daily to make the world a better place
For Purpose Friends– These are different characters that the kids will come across . They help kids to put real faces to the characters they met in the starter kit. These can give kids in-depth understanding of the causes behind each character.
2. Helping People and Communities $39.95
This toolkit teaches kids about doing good for people & communities in nee.
Toolkit contains:
Uncle Willie and the Soup Kitchen. The story introduce young children to the concepts of hunger and homelessness , and inspire them to think of ways to make a difference.
Activity Guide– Exemplary stories of the For Purpose Friends making a difference in this cause, fun games and activities, ideas for discussion relating to the characters and the featured book, as well as 5 Things your kids can do to serve people & communities in need.
The Giving Bag– This is the bag full ideas, on how to put a smile on someone's face
Color Me Kind Tee– Your child can color directly on this t-shirt every time they wear it. The markers come out in the wash so they can color and wear it again and again. Draw. Wear. Wash. Repeat.
Discovery Ball- This inflatable globe is an amazing way to teach kids about all of the places they can make a positive impact in around the world.
*This Kit only comes with one t-shirt, so be sure to order an additional one here if you have more than one child so you can avoid any fighting between kiddos!
3. Helping Animals Toolkit $39
The kit provides kids with ideas on how to be involved in animal conversation on a community and global level
Toolkit contains: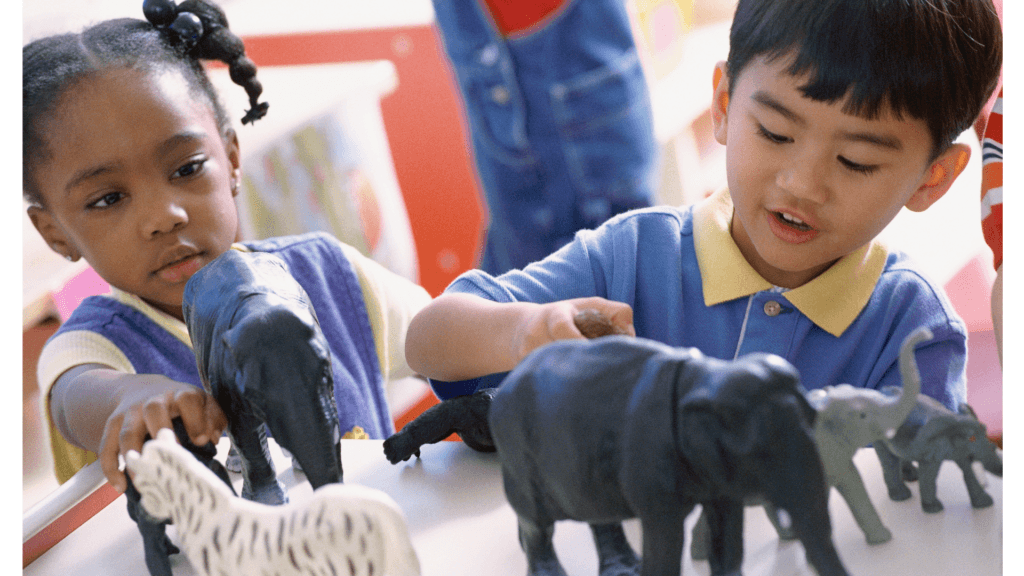 Moon's Messenger, by Virginia Kroll & Zuzanna Celej- Great reminder on the importance of respecting the environment and the animals.
Activity Guide-It includes real stories of the For Purpose Friends that lead in this cause, fun games and activities. It also includes 5 Things your kids can do to help animals in the community and around the world.
Origami Animals- These Origami animals are fun to fold and it's really cool to see them begin to take shape and look like real animals! There are so many fun animal shapes to play around with.
Reminder Bracelet– These bracelet serves as a reminder that we share this planet with other animals.
4. Protecting Our Environments Toolkit
More lessons on how to protect the environment now and for the future.
Toolkit contains:
Seeds of Change, Planting a Path to Peace, by Jen Cullerton-Johnson- This book is about a young girl in Kenya, who grew up to be the first Environmentalist to win the Nobel Prize.
Activity Guide– It includes stories of the For Purpose Friends that lead in this cause, fun games , activities, as well as 5 Things your kids can do to protect the environment.
VAPUR (BPA Free) Portable Water Bottle– The foldable, reusable water bottle is perfect for hikes with the family or just trips to the grocery store. Plus it will cut down dramatically on your use of plastic bottles, one of the biggest threats to our environment today.
Magic Seed Paper– The plantable seed paper is like magic because it takes seeds and turns them into flowers!
Eco-Friendly, Reusable Straw– This is a great conversation starter about why using reusable straws is so important.
Color Me Kind Collection
Image
Description
Price
Color me Kind Package
Includes the For Purpose Kids "Color Me Kind Tee", 10 Kindness Cards and one set of washable markers.
$19.95
Kindness Cards with Washable Markers
Includes 10 Kindness Cards and one set of Washable Markers. Tools and resources to brighten someone's day.

$8.95
Kindness Cards
Use them to put a smile on your neighbors, classmates, friends and those in your community that are always ready to serve (firefighters, grocery store workers, nurses, etc.). You can also include them in packages that goes to the homeless and orphans
Hand Lettered Design by Nicole Miyuki- Santo.
Includes 10 Kindness Cards (markers not included).
$6.95
Final Thoughts
If I do my part in my household and you do your part in your home, to intentionally raise eco conscious kids, we will create a desirable planet to dwell in for the future generation.
I would love to hear your thoughts in the comment section below in what way, small or big do you raise kids who understand their environments and how they can positively impact it?
If you enjoyed this article, you will certainly like to check:
Shifu Orboot – The World at your Finger Tips
Learning Through Play – Learning Shouldn't be Boring