Reading is known of its magic abilities to expand our vocabulary and imagination.Unfortunately parents and teachers alike have a serious challenge in getting teens,especially boys to read Families should find ways to sell the importance and the benefits of reading to teen boys. We should do whatever it takes to raise a generation of readers.
If we are to raise well rounded incredible men – because that is the core message of this blog then we have to find a way to inspire our teen boys to read and read books beyond the school curriculum prescribed books. Some of the best life lessons they will need to thrive in life as men , fathers ,husbands, professionals , leaders in their communities are hidden in books. Missing such books can result in fatal life mistakes.
Red badge of courage by Stephen Crane
The Red Badge of Courage is the story of Henry Fleming, a teenager who joins the Union army because he is enamored with the romance of battle. When the actual fighting starts, Henry is worried that he'll run away. At the beginning of the battle, Henry fights, as a soldier must. But, during a lull in action, Henry's fear overcomes him and he runs from the field. He convinces himself to return, and as he does, he meets up with a group of wounded men. Henry wishes for a wound, a red badge of courage, of his own.
An old family friend, Jim Conklin, or the 'Tall Soldier,' is among the wounded. Henry witnesses Jim's gruesome death, and he rushes away, into the midst of scared Union soldiers. One of them hits Henry in the head with a rifle, leaving him dazed and bleeding. Eventually, Henry returns to his regiment, where he finds the courage to fight, eventually capturing the Confederate flag and ensuring victory in the battle. By the end of the story, Henry has resolved to accept both parts of himself, his cowardice and his courage, because they make him who he is.
Themes
Courage is obviously a theme of this novel; it's in the title. However, the novel questions what courage actually is. Henry equates courage with manliness. Henry weighs courage with survival at several points in the story, and sometimes survival wins, which leaves Henry feeling like a coward. His belief about what courage is changes as the novel progresses. While at the beginning, Henry believes courage is fighting bravely, he soon grows to understand that courage is doing what he has to do. Henry proves his courage by not only risking his life for the cause of the Union army, but also by accepting himself for all of what he is.
Masculinity is something that is on Henry's mind a lot in The Red Badge of Courage. Like courage, Henry's idea of masculinity changes as the novel progresses. At the beginning of the story, Henry sees manliness as a brave soldier who rushes headlong into battle. However, by the end of the Battle of Chancellorsville, Henry realizes that true masculinity is acceptance of himself and understanding what is worth risking his life for.
Solitude is another theme of The Red Badge of Courage. Henry feels very isolated from the rest of his regiment. He assumes he is the only soldier plagued by fear and doubt, leaving him feeling like an outcast. The solitude in this book is physical as well as emotional. While Henry is alone, separated from the rest of the fighting, he has the time and relative safety to discover the truths about himself that lead to his growth from childhood to adulthood.
The personal growth that occurs in The Red Badge of Courage makes it in some ways a coming-of-age novel. Though the book spans only 48 hours in the life of Henry Fleming, it is a pivotal time for him. Henry goes through an amazing amount of growth over the course of the battle, and changes from a selfish teenager to a courageous man. Henry's growth is reflected in that of his fellow soldier, Wilson, who starts the novel as the 'Loud Soldier,' an opinionated braggart, and ends up not only a brave fighter, but a good friend to Henry.
The Giver – Lois Lowry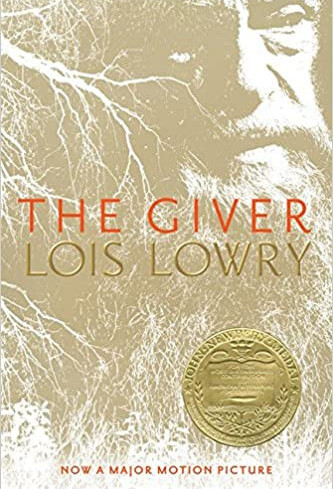 The book features a story about a boy named Jonas who lives in a perfectly peaceful society free of poverty, strive, crime, in qualities, and all the challenges of our modern-day society. The community in the story feels no sense of emotion, color, feeling, or remorse. This is a community where conformity is rigorously enforced over individuality.
When Jonas turned twelve he was assigned a receiver's a role in his community. His main responsibility as a receiver is to keep the memories of the past for the entire community, The new receiver receives training from an old receiver. The old receiver transfers memories to Jonas through touch. Jonas found the experience exciting at first because most of what he is starting to experience is new to him, for the first time he gets to experience things like color and real emotions.
The excitement did not last as the transfer continues to the memories of pain and other negative images. This made Jonas run away from his community to a new community, where he was greeted by a sight of beautiful homes and a different life from what he knew.
Holes  – Louis Sachar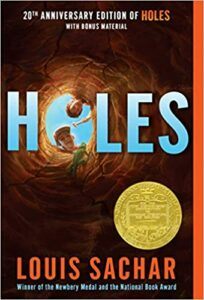 The book centers on an unlucky teenage boy named Stanley Yelnats, who is sent to Camp Green Lake, a juvenile corrections facility in a desert in Texas, after being falsely accused of theft. The plot explores the history of the area and how the actions of several characters in the past have affected Stanley's life in the present. These interconnecting stories touch on themes such as racism, homelessness, illiteracy, and arranged marriage.
Float – Laura Martin
Emerson can float…he just can't do it very well.
His uncontrollable floating is his RISK factor, which means that he deals with Reoccurring Incidents of the Strange Kind. The last place Emerson wants to be is at a government-mandated summer camp for RISK kids like him, so he's shocked when he actually starts having fun at camp—and he even makes some new friends.
But it's not all canoeing and capture the flag at Camp Outlier. The summer of fun takes a serious turn when Emerson and his friends discover that one of their own is hiding a deadly secret that puts all of their lives in danger.
It's up to the Red Maple boys to save themselves—and everyone like them.
Okay for Now – Gary D. Schmidt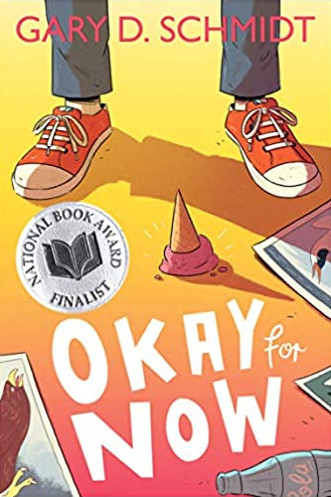 Its a story  of a  fourteen-year-old who just moved to a new town, with no friends and a louse for an older brother, Doug Swieteck has all the stats stacked against him. So begins a coming-of-age masterwork full of equal parts comedy and tragedy from Newbery Honor winner Gary D. Schmidt.
As Doug struggles to be more than the "skinny thug" that his teachers and the police think him to be, he finds an unlikely ally in Lil Spicer, a fiery young lady who "smelled like daisies would smell if they were growing in a big field under a clearing sky after a rain."
In Lil, Doug finds the strength to endure an abusive father, the suspicions of a whole town, and the return of his oldest brother, forever scarred, from Vietnam. Together, they find a safe haven in the local library, inspiration in learning about the plates of John James Audubon's birds, and a hilarious adventure on a Broadway stage.
In this stunning novel, Schmidt expertly weaves multiple themes of loss and recovery in a story teeming with distinctive, unusual characters and invaluable lessons about love, creativity, and survival.
The Adventures of Tom Sawyer
The Adventures of Tom Sawyer is a novel about a young boy growing up along the Mississippi River. The story is set in the fictional town of St. Petersburg, inspired by Hannibal, Missouri, where Twain lived. Tom Sawyer lives with his Aunt Polly and his half-brother Sid. He skips school to swim and is made to whitewash the fence the next day as punishment. He cleverly persuades his friends to trade him small treasures for the privilege of doing his work. Tom Sawyer's best friends include Joe Harper and Huckleberry Finn, who will get him into troubles, but also accompany him in glorious adventures.
Get instant access to some of these books and more with a 30 day free trial at Scribd.
What is Scribd
It is the largest digital library. It is as known as Netflix for Books. It is a subscription service with about one million books, hosting 60 million documents according to Wikipedia.
Scribd gives its subscribers amazing options of magazines, books, audiobooks, documents, and sheet music. It is the best place to get access to the greatest minds, experiences, and stories
SCRIBD covers a variety of topics across different categories i.e Personal Growth, Crime, Science fiction, Religion & Spirituality, Business, Travel, Non-Fiction, Fiction, parenting, family, romance, politics, entertainment, children books, cookbooks, travel, and more.
Scribd offers its users a 30 day free trial, with a subscription of $8.99 at the end of your free trial. Check my detailed scribd review here

Final Thoughts
I always loved the saying 'readers are leaders'. We live in an ever-changing world and these rapid changes need life long learners, people who are not lazy to read and learn new things. Our goal should be to raise independent lovers of learning. Again like everything else we need to model it, they need to see it in us.
These books are just the tip of an iceberg. This article will be constantly updated. Share with us in the comments below your best books for teen boys
Related Articles