Parents, myself included know very well that yelling is counterproductive, we yell with the hope of achieving quick obedience, we see it as a way to immediately get the expected response from the child, but in the process, we are hardening his heart and turning him into a bully. Because we know the negative effects of yelling most parents know that they have to do something about it, and it makes the question ' How can I stop yelling at my kids?' . one of the most common questions asked by parents.
I invite you into a conversation about the long term effects of yelling on your kids and together we will explore ways to stop yelling but most importantly what to do and how to talk in such a way that kids will listen.
Firstly, let's go deeper into:

Why Do We Yell?
Maybe if we understand Why or What makes us yell we can conquer the unproductive yelling habit.
We first have to be aware that children are not the cause of our yelling. I used to hear mommies say to their kids 'don't make me beat you' which I found to be very funny. Let me be forward, kids do not make us do anything. we decide to yell or to spank, we need to fully take full responsibility for how we respond to our children's behavior, irrespective of what they have done, we are responsible for our response.
We yell because :
1. We are Overwhelmed
Life can be challenging, and sometimes we find ourselves drowning under different forms of pressure, i.e business, relationships, career, finances, and many others and when we are in that state we get easily triggered because we are not in our right frame of mind. Unfortunately during such periods, guess who is our number one victim – Our precious, innocent little humans become our number one victim.
So it is important to always be conscious and aware of the space and the frame of mind you are in, not only that if your kids can understand, make them aware that you are currently not okay, request for a space to gather yourself before interacting with them.
When you are aware of your state of overwhelm resort to saying few words if ever you have to say any words at all, most importantly audit every word that comes out of your mouth during this time. In Summary, Make it a habit to be Conscious.
2. We Don't Have Enough Time to Respond Properly.
In most cases we yell on the Go, we yell because we are in a hurry and we want to fix whatever it is NOW, but unfortunately, kids also have the mind and pace of their own, they can't always meet up our pace and expectations.
Under such circumstances again Be – Aware, aware that you have expectations that might not currently meet up with the child pace, maturity, and understanding.
The truth is irrespective of how rushed you are, things can turn out differently if you can take a minute to breathe and implore the child's cooperation.
Evaluate your options- long term damage to your relationship/child or achieving what you want, when you want it, at whatever cost.
3. We Honestly Do Not Know How to Respond.
Yes, yelling can be because we do not know better. Most of us were raised by yelling parents so yelling has become our default response, If you fall under this category relax and read further, you are at the right place
But before that let's look at :
Why should We STOP YELLING
1. To Model Healthy Communication & Problem Solving.
2. Can cause Low Self Esteem
3. Can result in Low Self Control
4. Can cause Anxiety
5.Can cause Aggression
6. Can make a child Susceptible to Bullying
7.Can make a child Withdraw
8. Can cause Depression
How to Stop Yelling
1. Prioritize Connection
2. Focus on Teaching
If you reflect on your childhood you will remember that there are things you took time to understand why you should do or not do them.so keep teaching THE LIGHT BULB WILL SOON GO ON.
In most cases kids are expected to know a lot by metamorphosis, it skips our minds that they are called kids because they are still developing. Teach patiently, calmly, and repetitively remember Repetition is the mother of learning'.
.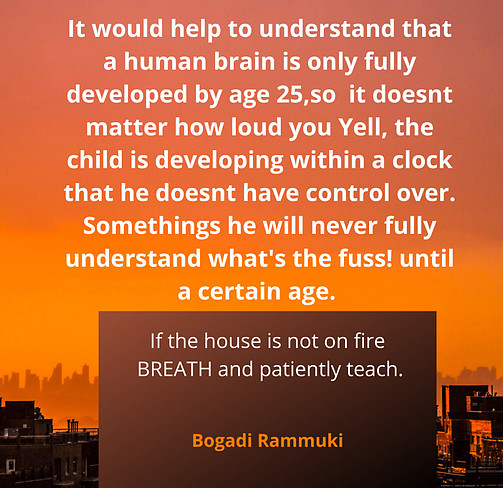 3. Communicate Clearly not Loudly
I am sure we are all aware that clear and calm communication is ten times better than 'making noise'
The best way to communicate with the child is through multisensory communication ( auditory, visual &
kinaesthetic), where he will hear your voice, see your face and feel your touch. It requires that if you need to communicate a message and want to be sure that, it is understood, get down on your son's level, look at him in the eyes, hold his hands or place them around his shoulders and communicate. After sending your message through confirm if he understands.
This kind of communication will make the child feel respected, important and conquers communication barrie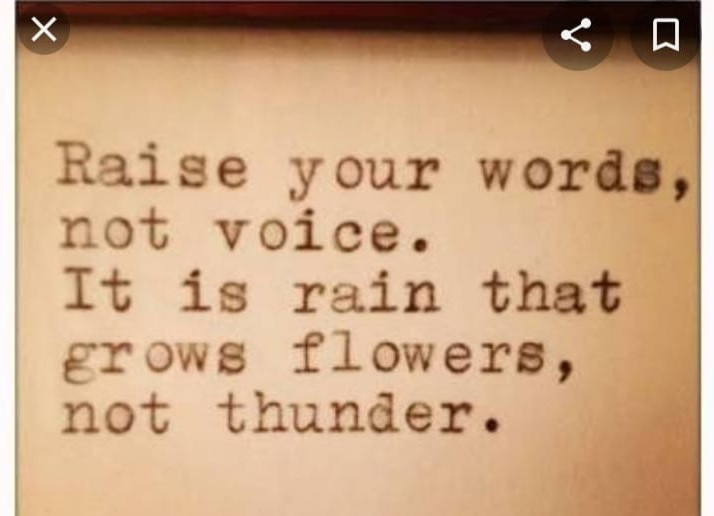 4. BeAware of your Triggers,
We are usually triggered by the same things, being aware of what those things are, can save us & the kids from some yelling episodes Triggers can be two ways, their behavior or your issues. For example, I know that I am more likely to yell when I am tired and overwhelmed and this has nothing to do with the kids. I also know that I am easily triggered to yell if I perceive that the child is lying about something or if I hear some unnecessary bickering.
If you are aware you, stand a better chance of adjusting yourself before you get hijacked by emotions.
5. Adjust Your expectations
Your expectations are just that – your own expectations, It is worse if they are not clearly communicated. But again we should also remember that we are operating at a different wavelength with our kids, what is so important to us will not always be that important to them, and this is due to different levels in maturity and many other factors depending on what the issue is. So a huge gap is expected between our expectations and their reality. It will take time, patience, clear, constant communication, and teaching for them to meet up
6. Pursue Wholeness
Pursue wholeness- for lack of better word. What I mean is to ensure that you are in the right shape, Mentally, emotionally, physically, spiritually, and otherwise. Wholeness is all of that makes us human – Mind, body, soul, emotions and relationships. Check this article to fully comprehend what it is and why is it important.
When you feel good and okay about yourself you will be a better mom or dad, but when you are out of shape in any of the mentioned areas it's a matter of time before you get easily triggered by petty things and erupt like a volcano on your kids.
7. Seek Help
Sometimes it just feels like yelling is part of who we are, we can't help.I highly recommend Positive Parenting Solutions course by Amy McCready, she calls herself a recovering yeller, who is bold to admit that she used to yell to the point of her throat getting sore. Check my full review of Positive Parenting Solutions Course in this article

Signup For Positive Parenting Course
Final Thoughts
No doubts – Yelling is causing more harm than good, so what are you gonna do? Decide to change, a decision not to sacrifice a long term well being of your child on the altar of meeting your expectations and getting quick obedience.
Even after you decide, you will at times fall, if you do rise and ask for forgiveness, how sweet will that be for a child to behold. See him melt from your humility.** In the process, you will be modeling humility and the fact that it's OK to ask for forgiveness.
NB: Yell only if the child's life is in danger e.g there is a car coming that might hit him or he might trip over something and fall. If he is about to endanger a sibling or anyone around him.ONLY under life-threatening or danger imposing circumstances shall YELLING or SCREAMING occur.
If you need help , if you want to become a better parenting consider this course on Positive Parenting

Here is to raising our Boys our to be Incredible Men