Education is something very close and dear to my heart. How it happens, where it happens, who facilitate it should never be overlooked. At the end of they day all these aspects will determine the outcome, good or bad. The first primary purpose of our education whether at home or at school should be to nurture the love for learning. Facts, theories, concepts, test and exams should never diminish the child interest in learning, which makes how we administer learning very important. We are in an era where Virtual Reality and Education should be viewed as a powerful bundle in facilitating child learning and development.
Overview
Virtual reality (VR) is a simulated experience that can be similar to or completely different from the real world.
These simulated experiences has the power to revolutionize and change the face of education as we knew it. Unfortunately if your mind is still frozen in the piles of books as the only or best way to learn you will not acknowledge these experiences as powerful learning tools. An educational entrepreneur Seth Andrew talks about the evolution of a student reading about France in a textbook, to watching a YouTube video about France, to, via virtual reality, being able to walk the streets of Paris. He describes how a virtual chemistry lab, which would not only allow kids to walk through molecules to see their structure, but would allow students to conduct virtual experiments, could be both less expensive and more educationally valuable than a traditional lab stocked with beakers and Bunsen burners.
Education has passed the phase of just facts and information retention but virtual reality is here to immerse the learner in the facts he is learning about, which enhances comprehension and makes it easy for the mind to process the information.
HeroMask Virtual Reality Headset for Kids
HeroMask VR reality headset is created by two gentlemen Mario & Carlos because they believe that we learn much more when having fun. They created two types of Virtual reality headset one for learning mathematics and one for learning languages i.e French, Spanish, German, Chinese and English. This VR goggles can also be used by the whole family to watch videos or play other virtual reality video games.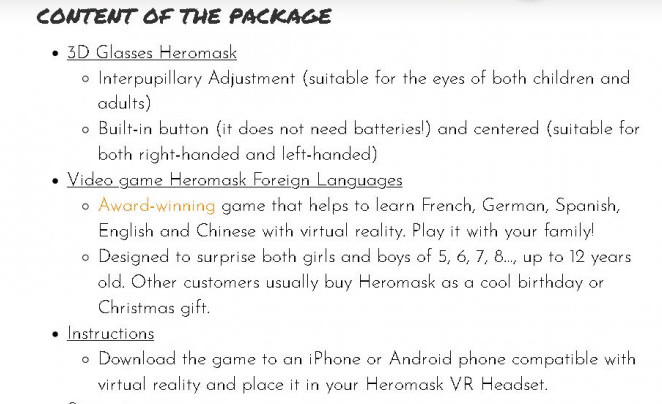 Who are they For?
The headset are designed as a learning tool for kids. So kids from the age of 5 – 12 years can enjoy this unprecedented way of learning maths and languages. Good news – adults and kids can comfortably use the headset to watch 3D videos and to play video games .
They make a great and thoughtful  birthday, Christmas  or any special day gift for kids.
Amazon is currently running a good special on this. Check :
.
How to use them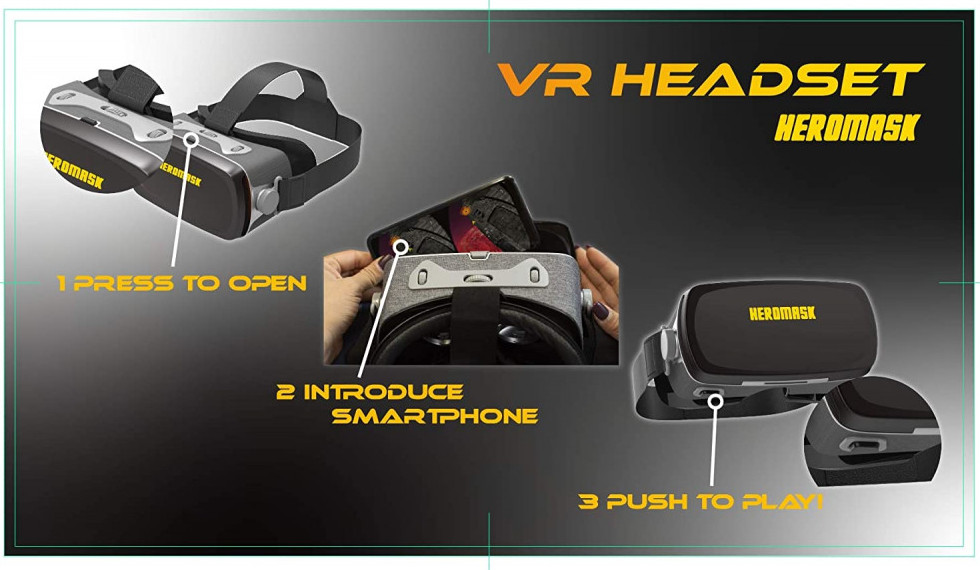 Pros
Can be used by children and adults comfortably.
Can be used for education and entertainment.
Does not require batteries.
Super easy to use.
Encourages the love for math and foreign languages.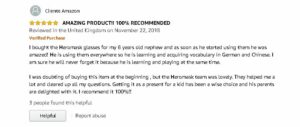 Cons
Some android phones are not compatible with the headset . ( on the amazon website you can be able to verify through their question section  if your phone is compatible)
Final Thoughts
The undeniable truth is the face of what we knew as education is changing. The 4th Industrial revolution is upon us, prepared or unprepared is not the question. It is taking over, invading the education space aggressively.
The question is can you adapt?
In my view amazing products like Heromask VR headset are what we need to adapt to the new way of learning as we resolve on taking baby steps towards the right direction.
To date i'm still conflicted, I sometimes find myself in a debate with my 10 year old to create a habit of writing down things on paper, if for nothing else to practice writing, and this lad who types better than he can write is adamant that there will be no need to use pens and paper in the near future. Somehow deep within me I know that's the truth, because I personally, at times spent weeks without ever needing to use a pen & paper.
Some ways of learning served the past and the current generation well but its important that we start adapting to the new for our children sake.