Words are powerful. words can make or break and words should be used thoughtfully. When uttered they can not be withdrawn, there is no backspace button for an uttered word. Hence Positive and Encouraging Words should fill our mouths daily as we communicate with our kids.` Some of the words we say today will remain a great source of encouragement or discouragement for years to come. In this article I want to fill your mouth with 100 positive words for children, . ensuring that you do not run out of empowering words in your daily interactions with your child.
Let  us  look at different ways we can use words as building blocks in constructing a boy under our care into an admirable, respectable man.
I urge you to be Creative and Intentional with words. Use them like arrows intended for a specific target.
The following is a list of encouraging words we can use to encourage, to love, and to affirm our kids daily.
1. You are special to me
2. I love you
3. You are important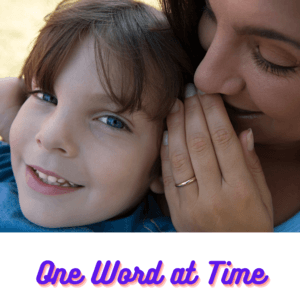 4. You are maturing well
5. You are creative
6. You are smart ( should be used minimally with more emphasis on efforts and the process)
7. I believe you
8.  You are loving
9. You are kind
10. I am blessed to be your mom
11. You are a blessing
12. Your friends are blessed
13. You are important to me
14 I like how you think
15. I value your opinions
16 Your future is bright
17. You are handsome
18. You are OK the way you are
19.  You are a great problem solver
20. You are such a compassionate boy.
21. I love your empathetic nature
22. thank you
23. I believe in you
24. That was brilliant
25. You are awesome
26. You are unique
27. You are such an independent thinker
28. You are a good communicator
29. You have a way with words
30. I like your attitude towards
31. You getting better at this
32. I love your energy
33. You can be trusted
34. You are courageous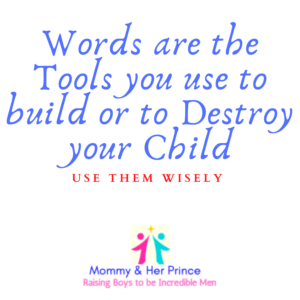 35. You are brave
36 You are bold
37. You are amazing
38. You make me proud
39.You should be proud of yourself
40. You are a star
41. You gave it your best
42. I appreciate your efforts
43 You are caring
44. You are loving
45. You are firm
46. You are reliable
47.You are gentle
48. You are talented
49. You have great leadership potential
50. You will be a great father
51. Your wife will be blessed to have such a gentleman
52. You are detailed
53 You serve with excellence your clients will be happy to do business with you
54. You will be a great asset to the company that will hire you
55. You are irreplaceable
56. I couldn't have chosen a better son
57. You have what it takes
58.I believe in your ideas
59. Wow.!
60.Your presence makes a great difference
61. I missed you
62. I can't imagine my life without you
63. I love you unconditionally
64. You are open-minded
65 You are not defined by others opinions
66. You are unique
67.You are resilient
68. You are such an independent learner
69. You look good
70. I know you can do it better
71. You are a genius
72. You are my Hero
73. You are good at…
74. I celebrate you
75. You are courageous
76. I love your confidence
77.You are genuine
78. You are authentic
79. That's honorable
80. You are such an optimistic person
81. Well done
82. You deserve it
83. I am sorry,
84.  I was wrong
85. You can try again
86. Don't give up
87. You are not your mistakes
88. I support you
89. I got your back
90. You can do this
91 I know how you feel
92. I forgive you
93. I understand
94. It's ok to cry
95. I am all yours
96. I want to hear all about it
97. You are stronger than you think
98. You went an extra mile
99. You are helpful
100. It will be okay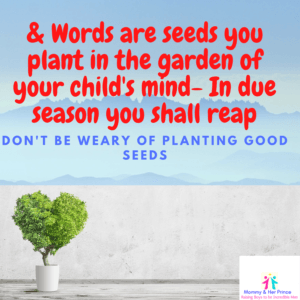 Additional Tips 
1. Don't Lie
Do not say things that are not true because you might eventually confuse the child. Even if you have the most mischievous child, there are moments of some good with him too. If you plan to turn the mischievous behavior around you are going to have to be some detective, Amid the mess you think he is, look for some good, magnify the good and talk more about the good. Catch him doing something good and build a monument there.
2. Don't over-praise
The child's motivation should not depend on your praise, he must not be addicted to your praise to the extent that without it he is dysfunctional.
Your praise, appreciation, or rewards should not in extreme ways force the child to do what he does not want to do, just so that he can impress the parents. Our praise should of course be a source of motivation but we should also encourage, teach, and make room for self-motivation in the absence of external praise.
We must also be aware of social comparison when we give our praise. We should avoid praise that goes like – you are better than him or you are better than them. Such praise can breed an unhealthy competitive spirit. The child's self-worth should not be dependant on how he has outperformed others.
The objective of praise should be to encourage the child. The focus should not only be on what he has achieved but the efforts/ hard work he has put in achieving that. What do you do if you saw him diligently preparing for a test that he now failed? You praise him for the diligence, check the loopholes in how he was preparing, and encourage him to give it another shot.
The same applies to when he has performed well, less emphasis should be put on words like you are smart, go beyond that and highlight the process he went through and the efforts he has put in achieving the results on the table, Why? because you want to promote or enhance resilience and hard work.
e.g ' I saw you practicing your maths consistently in the past week your hard work and persistence are paying off'
3. Don't use positive words to manipulate
Be genuine and sincere as possible in your praise or use of words. Remember ' Monkey see, Monkey do'. If you are using praise to manipulate you are raising a manipulator, he will do that to his younger siblings, friends and everyone he will relate with, future.
It will also be a hit and miss from your side, he will soon figure out your manipulative strategies and never respond positively to your praise.
Final Thoughts
I began by saying, use words like an arrow, have a target in mind. The big question here is what do you want to achieve.
Do you want to develop or enhance his confidence?
Do you want to ensure that he feels heard and understood?
Do you want to affirm him of your love and support?
Do you want to build his communication skill or whatever skill you deem necessary?
Do you want him to clearly understand how important he is, in your life?
Do you want him to believe in his potential and dreams?.
What is it that you want to achieve?.
Observe your child closely, what are his strengths – Fortify them with words. What are his weaknesses – use words to build him up. We can use words to build or to repair but choose to build than to repair. Build consistently, build patiently, words are like seeds keep planting in due season you will reap.
Finally, go out of your way to minimize counterproductive words. Positive, encouraging words are seeds, they need to be continually watered, in due time we shall reap a well rounded, sound, authentic incredible man. Negative, condemning words can work against what we are trying to build, they should be minimized at all costs. hence I believe that this is something that cannot be done casually but parents and guardians should be intentional and careful of what comes out of their mouth, ensuring that they daily water what they planted.
If you wanna know more about Why we need to build,groom and nurture our boys this way check Raising Boys to Be Good Men.