Parenting has its challenges, It's even safe to say parenting is a challenge itself. It's unfortunate that when we face parenting challenges all our other challenges do not stop. Life continues to throw curve balls at us.
In reality, most parents are not in an ideal state to take care of and nurture another soul, because they themselves need to be nurtured. But we still have to parent because there is no reverse or backspace button for the child we have brought to this world. 
We have no choice but to man up and parent even under the most hurtful circumstances.   
What do you do when your history has brokenness written all over it?, when you are hurting in ways you cannot even explain?.
When your marriage/relationship is crushing you into pieces but.. you still have to parent
Your career or your business is crumbling down but you still have to juggle that with taking care of yourself and others.
The point is we should not raise kids for raising kid's sake, we need to raise whole & healthy kids, especially emotionally and psychologically.. 
We cannot perpetuate the brokenness legacy. Someone  must bring it to a halt.
How to Parent While Hurting

.
1. Confront Your Brokenness
Acknowledge that you are hurting, get to the bottom of it , what is the real cause, don't shake off this reality, do not sit and hope it will disappear. Brokenness when left unattended tends to spiral out of control. Allow yourself to feel this pain, do not brush it off or shut it down, Like I said if left unattended it will make itself a little small voice in your subconscious mind always reminding you of the painful past.
2. Forgive yourself and whoever caused or contributed to your brokenness.
You can never heal except you let go and heal. It might not make sense but remember we are doing this to get a grasp of ourselves for the sole purpose of raising our kids from a whole place because wholeness will produce wholeness and brokenness will produce brokenness.
3. Love yourself 
Parents tend to think that they can love their kids more than they love themselves. 
Our primary responsibility towards our children is to love them and of course love will manifest itself in many ways.
The bible says Love your neighbor/next person they way you love yourself, what should happen then if you don't love yourself because you cannot give what you don't have.
 I have learned this a hard way,  that the consequences of prioritizing everyone  else but you can be very harsh psychologically, emotionally, and eventually physically. Ultimately when you crumble which is inevitable you will go down with the very kids that you have been prioritizing over yourself. Having said that it's safe to say self-love or self-care is a parental skill and tool you need. Good, peaceful, rational parents are parents who take care of themselves and the opposite is true. Let me echo the well-known quote that says self-love/care is not Selfish.
But how do I love myself?
 It starts with self-awareness. Answer questions like who am I? What makes me tick? & do more of the things that fill you with joy. 
 Be aware of things you don't like and do less of such, if you have to do them. Identify places, books, music, movies you like and indulge. Be conscious of your feelings daily, positive or negative, find a way to amplify the positive and do away with the negative. The keyword across this parenting blog is INTENTION. Be Intentional about loving yourself and like Kamal Ravikan say, Love Yourself Like Your Life Depends on it.
 Other common ways known to enhance  self love, are Meditation, Exercise, Journaling, affirmations, relaxing baths, and more. When you start to be Intentional about loving yourself ideas will fill your mind test them and choose what works for you. For more on Loving Self check this article .
If you still need more practical tips and activities to do daily, while endeavoring to love yourself better visit thestackedhouse.com
4. Then Love Your Child 
I want to believe that you understand that I am not in any way suggesting that you neglect your child in the process of loving yourself. I am however saying that you cannot l truly love him without loving yourself first.
Self-love as recommended will certainly heal you, I do not know anybody who committed themselves to self-love and never reaped the benefits of the healing it brings. But I should also mention that, there are no overnight results. The pain of whatever broke you might still be hanging over you for some time, which calls for another level of being Intentional to love and protect your child from your pains. 
It calls for you to be conscious of the words you utter about him and to him. You should always check if your words and actions are not in any way influenced by your brokenness.
In the darkest days of my life, I do my best to reduce interaction with my kids until I have gathered myself, however when I come out I come out with the Intention to love, I pour out my affection, I hug, I kiss, I affirm and I play.
If I cannot correct or discipline without losing it I do my best to leave that for the other day when I am in a better space.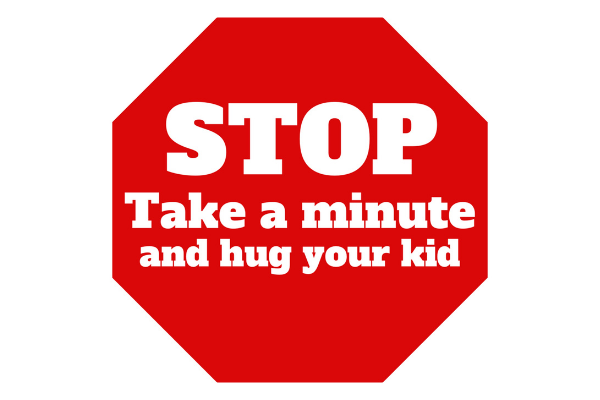 5. Celebrate yourself 
I have learned moons back not to wait for anyone to celebrate me, with me or affirm me. I created a habit of blowing my own horn. When I was a stay at home mom surrounded by toddlers, there are times I felt insignificant, with no contribution whatsoever to real-life issues. Yes, I envied my friends with corner offices in big corporates. I wondered why did I go to the university for and low self-esteem was slowly creeping in. Until I learned how to celebrate where I am. Until I realized that most people I am envying wish they could be home with their babies. Until I discovered that changing nappies and being the first point of contact in caring, nurturing, and teaching my babies was more than a significant job, but it was life, it was goals for many. 
I realized that it is not only a significant work but it is also the most challenging. This work built me, It taught me to love unconditionally, I call it my university of patience. I celebrate myself in small and big ways. I am my number one cheerleader. I wait for no one to tell me that I am doing well.
6.Pursue your goals 
 By all means, do not lose sight of your goals, there is nothing that brings fulfillment to the soul like progress in the right direction. I understand mommy that you might not have all the necessary energy for them but keep them in view, think about them, meditate on them, plan towards them, given a chance do something small towards them every day. As the babies grow you will increase the time you spent on your goals.
What am I saying? 
I am saying we all have a history of brokenness that differs in degrees, of course, If you did not come across it in your childhood, it has a way of hitting you as an adult. It comes in different shapes and sizes. However, there is No excuse whatsoever to hand it over to your child as a legacy.
He does not deserve that, shield him from your pain.
I am saying parental love begins with self-love, you cannot adequately give the love you do not, have.  
I am saying you cannot heal unless you confront your brokenness head-on and get to the bottom of it and be fully aware of how it manifests itself in your life.
I am saying healing demands that you forgive yourself and others 
I am saying be your number one cheerleader, celebrate yourself and applaud yourself, pamper yourself.
I am saying you deserve all the good, the love, and joy in the world and parenting should never take that away from you it should actually be your motivation to be the best version of yourself because now you are a role model with someone watching you closely, you are setting a standard and in his eyes, you are a definition of what life is.
I am saying the best gift you can give to your child is a whole, emotionally healthy Mom or Dad
I am hoping that you scooped some inspiration to be the best mom or dad from this article irrespective of what life throws at you. Here is to Raising Our Boys to be Incredible Men.
Tell me in the comments section below, share with us your experiences, your wins, struggles, and useful tips.