Toddler years range from twelve to thirty six  months. This is a time when the little prince start to really get excited and interested in the world around him. He wakes up keen to explore every morning. These are the years most regard as terrible two's because our explorer leaves no stone un- turned to satisfy the deep yearning to learn new things and to learn them fast ,It looks like he is working against a set time line that he cannot afford to miss.
Christmas is almost here and most parents , uncles and aunties are looking forward to shower their little ones with precious gifts. Choosing gifts that meet the toddlers developmental needs can be challenging but it is possible and doable.
We should primarily be on a look out for gifts that will enhance the development of their fine and gross motor skills.Secondary to that we should consider gifts and toys that encourages independent play while adding value to the development of social,emotional and verbal skills.
Let's explore gifts that will enhance their development while ensuring that he is has the time of his life.
Geometric Stacker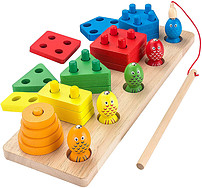 This is an awesome gift for kids, aged 2- 4 years old .This stacking toy encourages hand-eye coordination, imaginative play, color recognition,  shapes recognition, sequencing, matching & counting skills. It is more than just a stacking game it has a fishing part that most kids enjoy, It promotes independent play giving mom enough time for some self care.
ToyerBee Bead Maze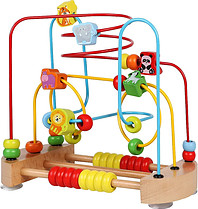 This bead maze has different colors and animal graphics on it, It is a great tool for the children's arithmetic enlightenment, fruit cognition, color cognition, hand-eye coordination and space thinking. NB : No need to assemble, children can easily get started. Just slide the beads to have fun!
Kidzlane Pretend Veterinarian Doctor Kit
It's a wow and a MUST for toddler pet lovers. Guaranteed to ignite the child's imagination as he learns to take care of pets and others.The 17-piece set comes with all the veterinarian tools and grooming accessory your child will need to conduct checkups, feed baby animals, or groom hair and nails!Each set includes a clipboard, patient chart, and exam table that make children feel even more like a real veterinarian as they take vital signs and care for their stuffed animals.
Ball Pit, Play Tent and Tunnels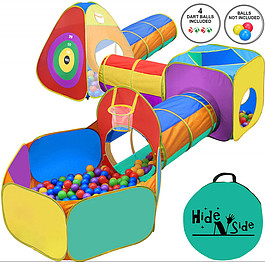 This is pit playhouse obstacle course play set guarantees long hours of fun and excitement, It can be used indoor or outdoor, it is very easy to set up , assemble and store. It enhances creativity and imagination , it  helps develop arm and leg muscles and gross motor skills. It does not come with the balls, make sure you get the balls here
Magnetic Toddler Toy,Catching and Feeding Game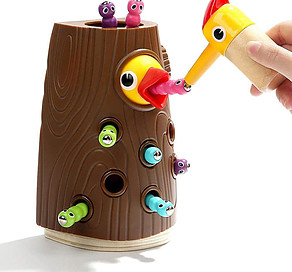 This toy takes the kids fine and motor development into the next level. It helps them gain more control over their hands, fingers and wrist .While catching and feeding worms, the child exercises hand-eye coordination.In summary it is safe for the baby,easy to store, enhances color recognition and develops fine motor skills.
Fat Brain Toys Squigz Starter
Squigz are scientific sorts – always up for playful experimentation that defies gravity. They can be used to explore 8 different versatile shapes. They encourages creativity, fine motor skills, interaction, playful experimentation. They provide relaxation and sensory stimulation.They stick on bathtubs, walls,desktops, etc but leaves no marks.
Magnetic Fishing Game for kid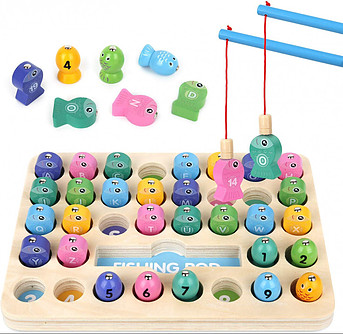 Its colorful nature is meant to stimulate brain development,cultivate prolonged interest and promote their perception and recognition of various colors and shapes.
As your little one have fun you will effortlessly achieve the following:
Fine Motor Skills
Letter Recognition
Learning Spelling Skills
Hand-eye Coordination
Promote Imagination
Problem-Solving
Improve Your Creativity
Five in One Music Toy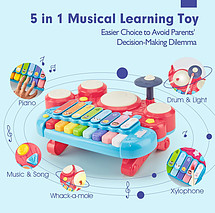 It's not only equipped with different musical instruments, but also come with diversified modes for kids to recognize numbers, colors and animals. This will be a great add on to the young explorer's  adventurous world, its time he explores his musical abilities.Musical experiences in childhood are known to  accelerate brain development, particularly in language acquisition, reading skills and mathematical comprehension.
Playkidz Super Durable Pound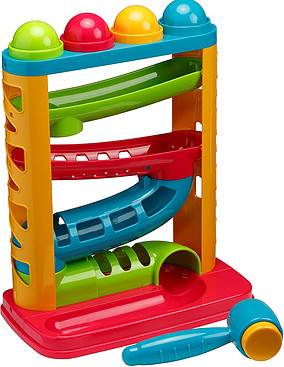 This Multi-color pound a ball, is ideal for hammering practice, Promotes hand eye coordination,  item manipulation and arm movement. The smooth-sanded balls drop down after being hammered, they roll down the ramp till they exit at bottom tray.
Toomies Cannon Ball Pic & Pop
'The Toomies Cannon Ball Pic & Pop is a distinct walk-behind toy that gets your little one moving. One click of the button launches a colorful ball from the chute, your little one chases after the balls and simply rolls over them to magically pick it up and start the fun all over again'. Its simple to operate , its interactive and it teaches cause and effect .
Final thoughts
At the end of each day adults ask themselves did I make progress today , did I achieve my goals for a day, but I believe kids are are asking different questions at the end of the day, their questions are, did I play enough today? Did I have fun? Did I discover something new?
It is the parents duty to ensure that the answer to their toddlers question its a resounding YES. As we do our best daily to get our little boys to that resounding YES , our choice of toys and activities are our best bet. We need to look for toys that encourages independent play, stimulate the mind, enhances physical, intellectual. emotional and social development.
I'm hoping that my list of recommended gifts will make your Christmas shopping easy as we endeavor to give our little ones the mesmerizing Christmas experience.