Did you ever find yourself worrying if your kids are getting enough nutrition from their daily meals? My hand is up, it takes more than enough space in my mind, it is not funny. I am always thinking about what should I cook and how do I cook it in a way that they will like. I felt highly pumped up just yesterday to hear my daughter saying broccoli is yummy, especially when it is cooked by my mother. My ears were surely tickled. But the truth is I don't always have that time of cooking nutritious food, the way they will like it. In this article, I want to introduce you to the Best Protein Shakes for kids – Organic EarthShake.
I promise you Peace Mind that Organic EarhShake brings. No more worries, wondering if you are providing enough nutrients and minerals
Maybe before we look at the Organic EarthShake as a product, lets refresh our minds on why we should really care about what our kids eat
It is better to prevent the consequences that come with a poor diet than to deal with them. Okay, what are those consequences? the consequences range from child obesity, anemia, protein deficiency, calcium deficiency. Not only that but poor nutrition can result in poor performance both in class and in the sporting fields. The brain and the muscles work well when they are nurtured. What is more concerning is that poor nutrition can cause long term negative effects that can affect the child as an adult. Some of the sicknesses that adults are battling with today can be traced back to childhood nutrition
What Is Organic EarthShake?
Earthshake is the kid's protein shake. It is USDA Organic Certified, Non-GMO, It has Less Than 1g of Sugar Per Serving, Lactose-Free Milk Protein From Grassfed Cows, Soy Free, Gluten Free, and Nut Free (contains coconut oil only).
It is awesome as Breakfast, On-The-Go Meal, Smoothies, Smoothie Bowls, Baking, After School Snack
It is made of the following ingredients:
Organic Pre-biotic Vegetable Fiber, Organic Milk Protein Concentrate, Organic Coconut Creamer (Organic Coconut Oil, Organic Rice Syrup Solids, Organic Pea Protein, Sodium Citrate, Sunflower Lecithin), Organic Natural Flavors, Organic Avocado Oil, Organic Cocoa Powder, Organic Oat Fiber, Xanthan Gum, Salt, Organic Stevia Extract, Ascorbic Acid (Vitamin C), Organic Monk Fruit Extract, Natural Flavor, Vitamin A Palmitate, Vitamin D3.
Each shake contains 8 grams of protein, 3 grams of fiber and 21 vitamins and minerals,
It comes in a chocolate and vanilla flavor, no artificial flavors, color, or sweeteners, loaded with all the nutrients that can help your kids to develop well.
They are great for Weight Management, Meal Replacement, Medical Needs.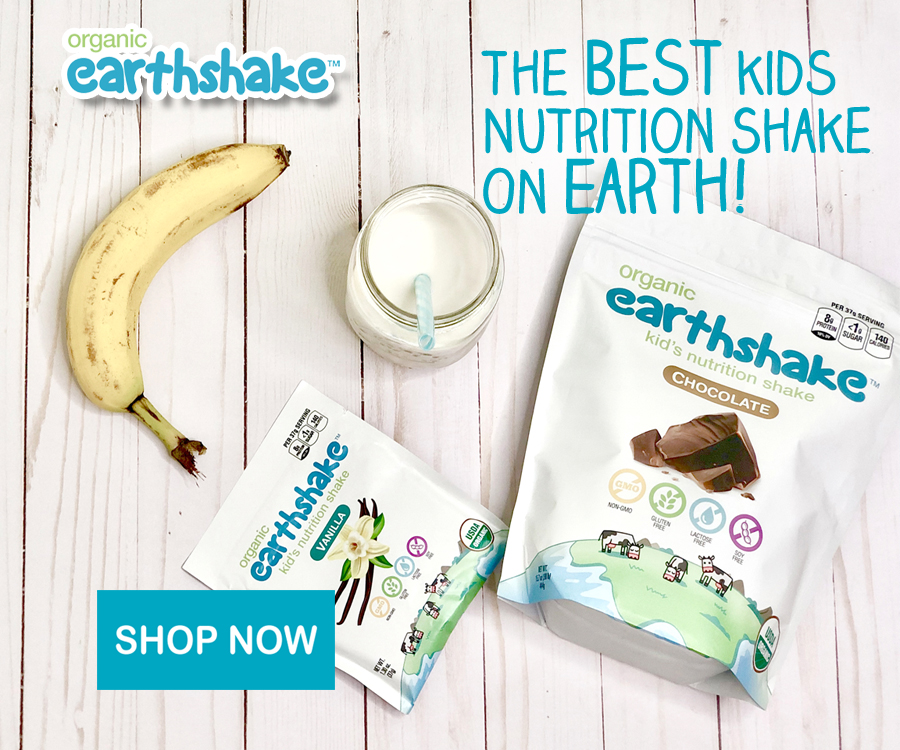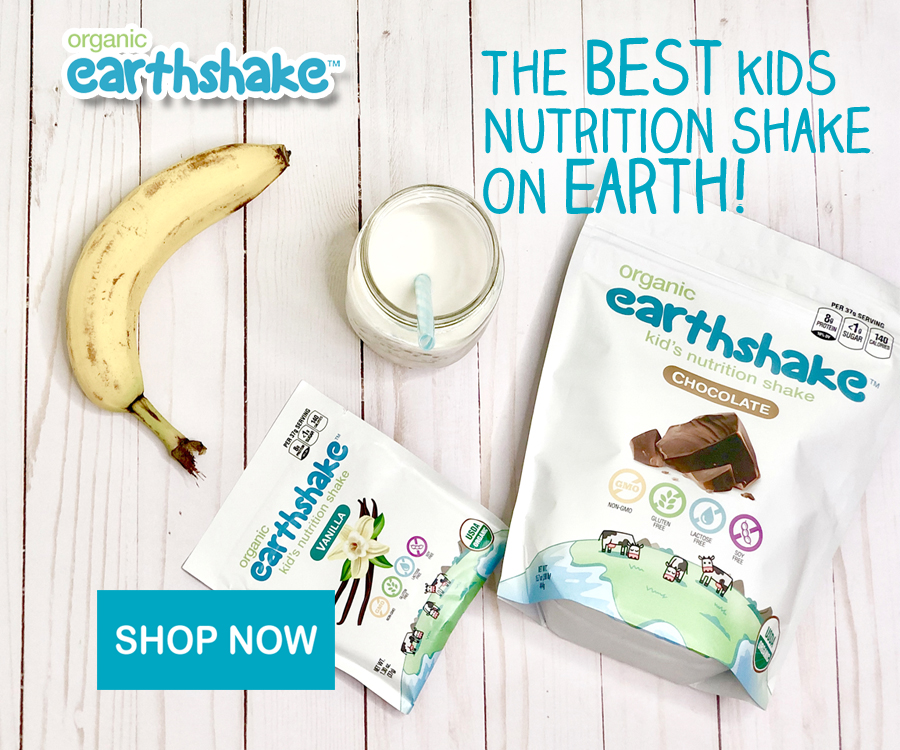 Who is it for?
It is ideal for kids from age 02 and up, I have heard that teenagers loves it most. It is a life saver for parents raising picky eaters because their kids can still get all the nutrition they need.
Enjoyed by moms on the go, they can get nutritional meals for their kids without spending time in the kitchen.
How to use it ?
Recipes
Below are just few examples of what you can do with this nutritious protein powder. For more recipes Click Here
BlueBerry Muffin Smoothie
Kiwi Kolada
Chocolate Avocado Pudding
Ingredients
2 Scoops or 1 packet Vanilla Earthshake
1/4 cup Gluten Free Oats
1 cup milk or milk alternative
1 banana, sliced and frozen
1/2 cup blueberries frozen or unfrozen

Directions
1. Place all ingredients except ice cubes into blender, and blend until smooth.

Ingredients
2 scoops Chocolate Earthshake
1/2 avocado
1/2 banana
1/2 cup unsweetened almond or coconut milk (or regular milk if lactose is ok)

Directions
1. Place all ingredients except toppings into blender, and blend until smooth.
2. Top with sliced banana and nuts (optional)
Ingredients
2 Scoops or 1 packet Vanilla Earthshake
1 cup milk or milk alternative
1/2 banana, sliced and frozen
2 Kiwis


Directions
1. Place all ingredients except ice cubes into blender, and blend until smooth.

For more recipes click here
Pros
Organic
Great taste'
No food colorants and sweeteners
Cons
None or maybe pricey

Final Thoughts
It has been said more than we can remember that health is wealth, but somehow human nature always pursues the later first, though there is no logic to it. I know what it is like to have a sick child and , the sickness is traced to body weight. The big question I asked myself repeatedly is does it mean that just a little extra attention to what she eats would have saved me the hospital bill, and all the emotional turmoil that comes with having your child sick I learned my lesson a hard way and I watch closely what goes into their mouths and I am intentional about their nutrition.
I would love to know what you think , any input or question about child nutrition , your experience as a parent with your kids or maybe you can do a throwback to your childhood days, how did your parents handle it?
For more on growing and becoming a better parent check: