Driving is exciting, and it is what every teenager looks forward to, for them driving is not only a means of moving from point A to B but it is also an affirmation that they are maturing . During this time the teen is excited but it is usually a different story for parents. Parents find themselves within the roller coaster of emotions, sweet and bitter because they are excited and equally concerned about the safety of their kid on the road. I am hoping that this review on a Teen Car Tracking Device called iTrack GPS tracker will afford as many parents who will read this article some peace of mind while their teenagers are on the road.
Further within this article we will cover numbers of teenagers who daily loose their lives on the road. The statistics are horrific, and put a demand on parents to pay full attention to details about their kids safety before they hand over the car keys.
What is iTrack GPS Tracker ?
It is a small device that you plug into your car's diagnostic port to track the location of your car, to have instant access to the history of previous locations/ itinerary tracking, and to monitor the speed of your car even when your miles away
You plug the tracker into your car and access the data from your smart phone ( Android and iPhone are both compatible).
In short iTrack GPS Tracker gives you real-time information about the whereabouts of your car the route it is traveling on, where it has been and the speed at which it is driving in, ensuring that you have the peace of mind about the safety of your car and your teen. I cant think of a better gps tracking for teenage drivers.
Who is it for?
Though this article is written with the young drivers in mind, everyone, young and old needs to have this tracker for safety reasons and to have instant access to necessary information, when need arise, hence it is safe to call it a car monitoring device.
The tracker is more relevant or should I say it is a Must-Have if:
Your parking lot is out of sight.

You share your car with family and friends.

If you own or manage company fleets.

If you tend to forget where you have parked.

If you want to monitor your or other drivers, driving habits and patterns

If you want to keep track of the car's travel data

If the idea of a car monitoring system fascinate you .
How does it work
You must have a smartphone (iPhone or Android), and a sim card with data.

Locate your car's diagnostic port

Plug the iTracker device into a diagnostic port.

Download the iTracker app into your smartphone

Follow the instruction to set up an account

Connect the app to the device.
With this kind of car monitoring system you can sit back, relax and monitor the movements of your car form your smart phone.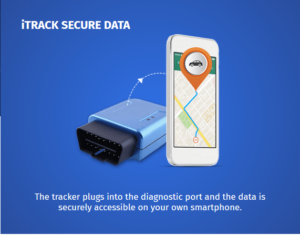 Pros
Affordable price (Once off, no monthly payments )

It is portable

Easy to setup

Work with any car built after 1996

You can register to receive alerts whenever your car starts to move

If the car is stolen you can track it and alert the police about its exact whereabouts.

It gives you updates on the health of the engine

It monitors the speed and engine mileage

Enable to measure the revs on the engine

It reports on unusual activities like abrupt acceleration, vibration on the wheels.

Enable you to keep your young driver in check.
Get Your iTrack GPS Tracker For $99 Once Off
Check the comment below from one of the users:
'Was skeptical at first. I followed the semi-easy instructions to install the sim car and connect. It works well for me. Was impressed by how accurate stop locations were. It gave me an address, and google picture location. Speed travel blue line history of the day. So cost and service it's a great buy!. You know exactly where your car or family is! In real-time! It has built-in batteries. Two thumbs up!'
Cons
None I am aware of except that you can at times be disappointed by the information of where your young driver, partner, or friend dashed to with your car.
You might have to be ready for some disappointments but this can never outweigh the above-mentioned benefits of this tiny device.
Why you need iTrack GPS tracker
If you still need some persuasion beyond what I have already highlighted, here are more reasons you need to consider this amazing technology for your peace of mind.
I know more mothers than I can count who more than once had sleepless nights about the whereabouts of their teen driver.
I also know of instances where a car got hijacked or stolen and it was never found, with the tracker you can intercept the thieves with the police on their track.
I know owners of fleet companies whose businesses collapsed because their staff abused the cars.
If you do not want to fall victim to any of the above-mentioned calamities get yourself the itrack car GPS tracker plus you can currently and for a short while get it at a 50% discount.
More reasons
In 2017, 2,364 teens in the United States aged 16-19 were killed, and about 300,000 were treated in emergency departments for injuries suffered in motor vehicle crashes.1 That means six teens aged 16-19 died every day due to motor vehicle crashes, and hundreds more were injured. Check this article about facts about teen driving.
Final Thoughts
It is the parents' primary responsibility to keep their teen drivers safe on the road. Unfortunately, we don't have superpowers, we might not be able to keep them safe from all dangers but we certainly can minimize the risk they face every time they get behind the wheel.
Remember itrack GPS device is not only about locating the car but it also will highlight driver behavior on the road. When you are aware of some unwanted behaviors you can then address them before they turn fatal.
This is an all-time precaution against theft, accidents and mischief. This car tracker device offers you convenience by having all your information centralized within one app. You don't have to search through emails or make calls to the tracker company but all you need to know, or be aware of, as far as your car is concerned is now right at your fingertips.
You can never mention best teenage driving monitoring devices without mentioning iTracker.
Good News – You get a 50% discount when you purchase one and get more discounts when you
purchase more than one device. Click on the image below to keep your Car and Teen Safe.
I would love to hear your thoughts, on methods you use or you think can work better in keeping our teens safe on the road.
For more Insights on building a thriving relationship with your teen boy check this article on Parenting Teenage Boys